Podcast: Play in new window | Download
Subscribe: RSS
SciFi Diner Podcast Ep. 120
Our Interview with Emilie Ullerup
(Sanctuary, Riese, Battlestar Galactica,
Smallville, and Hunt to Kill).

Download this Mp3 Friendly episode (right click and save)
Download this iFriendly episode (right click and save)
The SciFi Diner Podcast
Please call the listener line at 1.888.508.4343,
Email us at scifidinerpodcast@gmail.com
or visit us on Twitter @scifidiner.
Tonight's Diners: Scott & Miles
Welcome to the Diner.
If you have listened to the show for sometime, we would love to have you leave feedback on iTunes. We know not all of you use iTunes, but for those that do, it helps us become more visible. If you don't use iTunes, your feedback is still valuable. Visit our webpage at https://scifidinerpodcast.com and leave a comment on the show notes or email us at scifidinerpodcast@gmail.com We want to know what you are thinking about what we are saying and what shows you are watching.
 Music at the end of the show is called Living it Over and was composed by Andrew Lockington.
Menu:
* Interview: Emilie Ullerup
* Trivia: New Trivia question this week
* TV News: Game of Thrones Season 2 trailer,  Lost Girl coming to SyFy, Kiefer Sutherland's new Fox series Touch
* Movie News: MIB3 Trailer,  A Black widow spinoff? , Underworld: Awakening Trailer, G.I. Joe: Retaliation
* Battleship Trailer
* This Week in Star Trek: Check out classic interview from 1982 w/ the TOS cast.  Star Trek movie news
* SciFi Five in Five: Great Jack O'Neill quotes.
Promos
Trivia:
Trivia Question:  Who was the inspiration for Gene Rodenberry for his security chief on Star Trek: The Next Generation?
Prize: Two New Star Trek Comics (Issue 1 & 2)
Entries must be in by December 27th. Send your answer with your mailing address to scifidinerpodcast@gmail.com, call us at 18885084343, or DM us on Twitter at @scifidiner. Make sure you include your e-mail with all entries! Only one entry per person.   The SciFi Diner is not responsible for any injuries occurring if you secretly decide to go all shiny and dress in a browncoat and walk into your local bar.  BE SURE TO INCLUDE THE CODE WORD mentioned in the first 15 minutes of the podcast.
Interview: Emilie Ullerup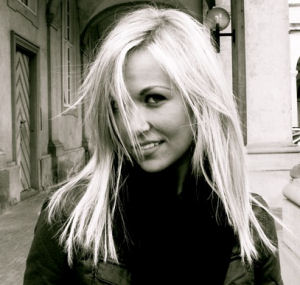 Ullerup was born in Copenhagen, Denmark as a child of a diplomatic family. As a diplomat's daughter she had to move very often and grew up all over the world. Her love to perform developed early. In every new school she played every school play or musical. After graduation from high school in Copenhagen in 2003, she moved to Vancouver, British Columbia, Canada and attended the Vancouver Film School, graduating in 2005.
Ullerup's first role was that of Julia Brynn on the remake television series of Battlestar Galactica in 2006, which aired on the Sci Fi Channel. She played Ashley Magnus in the first and second seasons of the television show Sanctuary until her character was written out. Her departure from the show is still a topic of heated debate among fans, with many of them wanting her brought back in future episodes.
Ullerup speaks Danish, English, Swedish, and Vietnamese. Her father holds the title of Lord Chamberlain for the Danish Royal Family. In 2008, she was found to have a benign but aggressive tumor wrapped around her spinal nerves. She underwent surgery to remove the tumor in 2009, at which time they also removed her tailbone and half of her sacrum. After about five months, she recovered enough to return to work.She currently lives in Vancouver with her boyfriend, actor Kyle Cassie.
TV News:
Game of Thrones returns to @HBO for Season 2 in April 2012.
Lost Girl makes its way to the US
SEXY SUPERNATURAL DRAMASERIES LOST GIRL WILL PREMIERE ON SYFY MONDAY, JANUARY 16 AT 10PM
NEW YORK – December 12, 2011 – Syfy will premiere the sexy supernatural drama series Lost Girl on Monday, January 16, at 10PM (ET/PT), immediately following the second season return of Being Human at 9PM.
Anna Silk (The Ghost Whisperer) stars as seductress Bo, a Succubus (a powerful female entity in folklore) who feeds off sexual energy. Raised by human parents, Bo had no reason to believe she was anything other than the girl next door – until she "drained" her first boyfriend to death.
In the premiere episode, Bo discovers she is one of the Fae, creatures of legend who pass as humans while secretly feeding off them. Faced with choosing between an allegiance to the Dark or Light Fae clans, Bo takes the middle path between the human and Fae worlds while embarking on a mission to unlock the secrets of her origin.
Lost Girl co-stars Kris Holden-Ried as Dyson, a homicide detective and Bo's love interest; Ksenia Solo as Kenzi, Bo's confidante; Zoie Palmer as Lauren, a doctor who competes for Bo's heart; Rick Howland as Trick, the mysterious bartender at The Dal Riata Tavern, and K.C. Collins as Hale, Dyson's partner on the force.
Notable guest stars include Emmanuelle Vaugier as "The Morrigan," the leader of the Dark Fae.
New TV Spot for Kiefer Sutherland's TOUCH
We're so glad that Fox has made room in its spring schedule for both Alcatraz and Touch. Very different from each other, yet both appealing to our sci-fi hearts. Fox has just released this new TV spot for Touch but remember, don't be fooled by that "January 25″ date; we WILL be seeing the first episode then, but the rest of the series (with or without a repeat of the first episode, we're not sure yet) doesn't happen until March.
The ONLY reason we're ok with waiting until March for most of this series is that it is taking over the slot from Alcatraz at its midseason. It's just a pity they couldn't air BOTH series in January. Yes, we are greedy. Greedy for sci-fi goodness.
Touch, starring Kiefer Sutherland, debuts with a special one hour preview on Wednesday, January 25 at 9/8c, then takes its regular slot of Mondays at 9/8c on Monday, March 19 at 9/8c on Fox.
Alcatraz has its two-hour premiere on Monday, January 16 at 8/7 c, then takes its regular slot of Mondays at 9/8c on Monday, January 23 on Fox.
Movie News:
The Men in Black 3 Trailer
Scarlett Johansson wants back in latex for a Black Widow movie
Apparently, sharing screen time with Avengers like Robert Downey Jr., Chris Evans and Chris Hemsworth hasn't sated Johansson's desire for more adventures with Natasha Romanoff—better known as Black Widow: She's ready for her spinoff.
Marvel has already stated its desire to make movies with both its A-list characters—like Iron Man, Thor and Captain America—and some heroes a little deeper in the roster. And Johannson, for one, would like to see her sultry spy get the nod:
"I love playing the Widow. I think she's got a very interesting past, a lot of storylines to explore, and certainly Kevin [Feige, Marvel Studios' president] loves that character … I think that Marvel has a very personal relationship with their fans, and I think if the fans want it, and the audience wants it, nothing's impossible. I would love to explore that option as well. Like I said, I love the character and it would be nice to see something nice and gritty."
A prequel, perhaps? Showing how she came to be a S.H.I.E.L.D. agent in the first place? And, maybe, delving into her history with Jeremy Renner's Hawkeye?
2nd surprising Battleship trailer turns out to be filled with awesome
Okay, Peter Berg just might pull this whole board-game-movie thing off. The second trailer for Hasbro's naval warfare invasion flick goes for a stunning air, land and sea assault of colossal spaceships, cool cyborg soldiers and an insane arsenal of stuff that goes BOOM.
A hurricane of speculation has surrounded this project since its inception, and for good reason. How could a simple hide-and-seek geometry game you play on boring camping vacations while swatting away meat bees have any chance at a narrative adaptation to film?
The result may be a stitched-together fusion of equal parts Armageddon, Independence Day, Transformers and Battle: Los Angeles, but Berg and his team seem to have a confident ace up their sleeves with what may end up being a decent popcorn pageant of destruction.
Have our expectations in the genre really sunk so low? (Don't answer that). Have a look …
Yes, an alien armada force field, star-crossed lovers, toppling skyscrapers and razor-tailed attack drones destroying military bases all seem painfully familiar and do bring to mind the more unmemorable moments of recent sci-fi fiascos, but let's be optimistic. The broad, candy-colored canvas and deja-vu feel could give Universal's $200 million tentpole a steady foothold with its spring opening. (Or it could sink to an early, watery grave.) Anchors aweigh, and save us a lifeboat seat just in case.
Launching May 18, 2012, Battleship stars Liam Neeson, Taylor Kitsch, Alexander Skarsgard, Brooklyn Decker and Rihanna.
Does the trailer make you seasick or set to sail its cinematic seas?
Awaken Selene With This NEW Poster and Images from UNDERWORLD: AWAKENING
Just last month, we brought you some new pictures of Kate Beckinsale and Michael Ealy from the newest installment of the Underworld franchise. Now, Screen Gems has released a new poster and two more pictures from the film, featuring the two actors. Check them out below!
Screen Gems has launched a Facebook app called "Awaken Selene" for Underworld Awakening. Go to Facebook.com/Underworld and click on "Awaken Selene" on the left side of the page. You'll then be able to "Awaken" friends and unlock missions.
Synposis:
UNDERWORLD AWAKENING, directed by Måns Mårlind, brings a stunning new dimension to the epic battle between Vampires and Lycans, as the first film in the franchise to shoot in 3D. Kate Beckinsale, star of the first two films, returns in her lead role as the vampire warrioress Selene, who escapes imprisonment to find herself in a world where humans have discovered the existence of both Vampire and Lycan clans, and are conducting an all-out war to eradicate both immortal species.

G.I. Joe: Retaliation Trailer

It's the Rock vs. flying ninjas in 1st G.I. Joe: Retaliation trailer.

G.I. Joe: The Rise of Cobra was, generously speaking, not good. But the upside is that the sequel has nowhere to go but up. And by the looks of it, G.I. Joe: Retaliation has picked up that gauntlet, filled it with gunpowder and muscle, and jammed it down Cobra Commander's throat.

Listen, there's no use in pointing out that Retaliation seems to have the same basic plot as The A-Team and The Losers and Mission: Impossible—Ghost Protocol (badass tough guys framed and left for dead by their government masters). Or that there's no way housekeeping would allow those giant Cobra banners on the White House.

This is a movie with hot blind swordswomen, the Rock firing guns the size of fenceposts, an apparent lack of Marlon Wayans (the Jar-Jar of the G.I. Joe universe) and the aformentioned flying ninja fight hanging from the side of a mountain.
After an extended slump with only a few bright spots over the past couple months, expectations for this weekend were lowered. Unfortunately, the new releases managed to fail to live up to lowered expectations and we had the worst weekend of the year. That can't be right. It's the worst weekend in three years. The overall box office was down 7% from last weekend to just $75 million, while it was down 18% when compared with last year. With only a few weeks left in the year, 2011 is down by 4% to 2010 at $9.57 billion to $9.95 billion. At this point, 2011 has virtually no chance of catching up to 2010. In fact, the box office is so weak, I think it is wise to reduce all predictions by at least 10%. … Maybe 20%
This Week in Star Trek :
Check out a classic rare interview w/ the cast of TOS back in 1982.

Before the Internet and tablets, radio programs were a popular source of entertainment and a potent promotional strategy. For the premiere of Star Trek II: The Wrath of Khan, The Source, a popular radio network for young adults, featured an hour long program called The Voyage of Star Trek. Premiering in the summer of 1982, the radio special covered both the history of Star Trek and the making of TWOK.
New interviews with William Shatner, Leonard Nimoy, DeForest Kelley, James Doohan, Nichelle Nichols, George Takei, Walter Koenig, Ricardo Montalban, writer/director Nicholas Meyer, fan Bjo Trimble, and science fiction author Isaac Asimov were featured.
Also included were Gene Roddenberry's lectures to college students from the 1970s (and originally available on the LP, Inside Star Trek). Especially interesting was the trivia included, such as Ricardo Montalban realizing during his interview that he starred in Gene Roddenberry's first ever science fiction script for a television program back in the 1950s.
The program was sent to affiliates on an LP and played during the designated time. To help celebrate next year's 30th anniversary of TWOK and 45th anniversary of "Space Seed," my family digitized our copy of our promotional LP and have made it available for fellow fans to experience once again this "lost" Star Trek radio program.
Please enjoy this nostalgic recording from three decades ago, when radio was cool and The Wrath of Khan was brand new.
Benecio's Out, But The Rumor Mill Spins. My Question; Why Khan In Star Trek XII?
So, by now you've all heard the rumors about Benecio Del Toro's quick rise and fall as a possible substitute for Ricardo Montalban's Khan. Now it seems that there are two more possibilities for an alternate universe super human with superior intellect. According to Variety (via Conventry Telegraph), Edgar Ramirez (The Bourne Ultimatum, Vantage Point, Carlos the Jackal miniseries, upcoming Wrath of the Titans) and Jordi Molla (Bad Boys II, Elizabeth: The Golden Age, Knight and Day) might be up for the job.
Here's our two cents; why Khan? Yes we understand that Ricardo Montalban was Latin and played a Sikh, but why would J.J. make the same choice and have an actor of Latin descent take on the role of someone from the Indian subcontinent? Okay, continuity… Sure, but were dealing with an alternate universe here. Why not have an actually a Sikh play a Sikh? I think that would be a step in the right direction. Don't you?
To be blatantly honest, I think I'd be okay with a new Khan. I mean, Star Trek XI was a nice surprise and J.J. has yet to disappoint with his other films. I would just like to see a screen rendition of Trekcast's verion of Khan. I think I'd be down with that… or maybe Jack Black as Harry Mudd…
The SciFi 5 in 5:
Miles: Great Col. Jack O' Neill quotes
5.  Children of the gods. General George Hammond (Don S. Davis): You ever think of writing a book about your exploits in the line of duty?
O'Neill: I've thought about it. But then I'd have to shoot anyone that actually read it. pause. That's a joke, sir.
4. Secrets  O'Neill: It's "O'Neill," with two L's. There's another Colonel O'Neil with only one L, and he has no sense of humor at all.
3. The Fith Race  Teal'c: What is the reason for these padded gloves, O'Neill?
O'Neill: So we don't hurt each other. I'll be honest with you, Teal'c. It's so you don't hurt me.
2. Upgrades Anise: You may call me Anise.
Jackson: Anise.
Anise: It means "noble strength".
Jackson: I'm Daniel. It means, ah, "God is my judge."
O'Neill: I'm Jack. It means…. What's in the box?
1. Beasts of Burden Burrock: It is our custom to welcome visitors with a drink. Will you join me?
O'Neill: It is our custom to drink. Of course.